JC's Kitchen
JC's Kitchen

Welcome to the Bamboo Forest
Welcome to the Bamboo Forest

Paint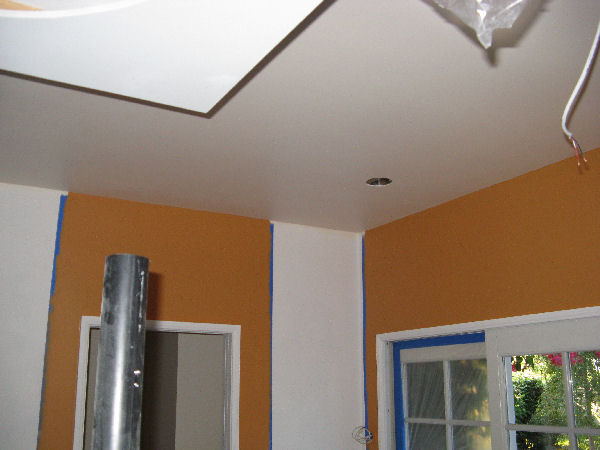 The wall paint is Fine Paints of Europe Eurolux #90. The ceiling is a tint of #90, 30:1 base to paint. The woodwork is a white I mixed for my woodwork 7 years ago. It's Benjamin Moore semi-gloss, more or less 8:1 BM Superwhite to P&L Maya. The rest of the white is Fine Paints of Europe Eurolux undercoat primer.
Cabinets and Knobs/Pulls
The cabinet faces will be bamboo (hence the bamboo forest). The seven discs are the pull part of the knobs. All seven colors will be used, though a few less of the darkest green. The shafts will be brushed brass finish. You can also see the floor and counter tile samples and paint chip in the picture.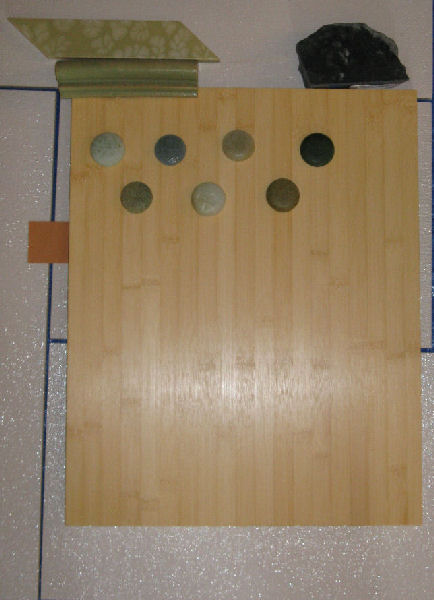 | | | |
| --- | --- | --- |
| | These are pages from the Spectra Decor catalog, which I reproduce here so as not to steal bandwidth. The Beach Pebble knobs are as above, made from recycled glass. The appliance pulls are the Fusion 2, in satin brass with natural abalone inlay. The coolers will have oversized ones. All of the drawers on the island will have matching, smaller pulls. The cupboard for the island sink gets a singular Anne at Home bee, however, in gold color. | |
Tile
These are the tile samples from Architerra Northwest. The main countertop color is the parallelogram, the one in the picture above. The main color of the samples will probably be used sparingly, if at all, because it's a bit too blue. I love the texture, however. The flowers are an option for the outdoor counter. The "gumdrops" are an option for the garden window. The yellows and red are for the backsplash.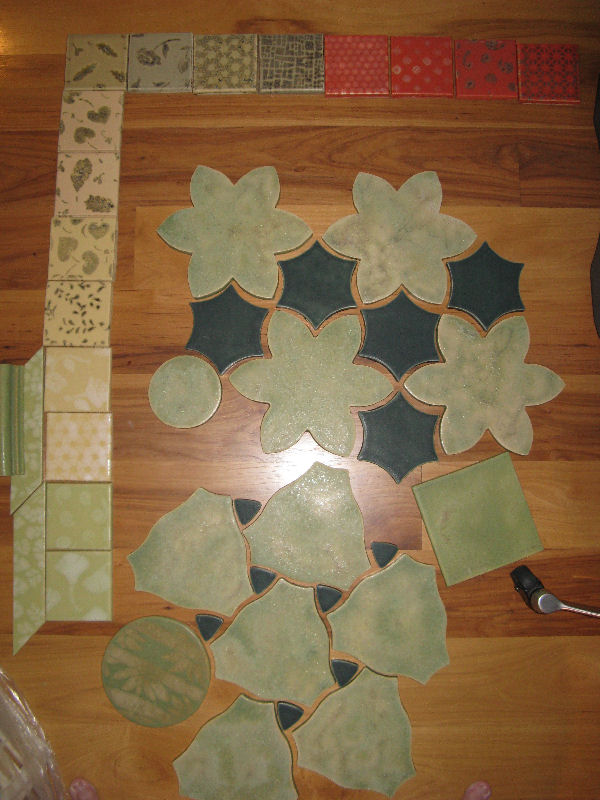 Other Surfaces
The "table" will be made out of this sunflower seed husk board. Beog at epOxyGreen, where it comes from, was concerned because I kept saying, "No resin!" I don't mind the resin in the table, however, just in the work counter, and this stuff feels nice, like my orange collander, not slimy like resined stone. And it's not reflective at all. The same board will be on the butler's pantry counter, which will have a mirror backsplash. I don't have a good picture of the island top. Just the sample in the cabinet picture above. It's a very dark green soapstone, 3cm thick. The doors of the laundry room cupboards will be made out of the same plywood that all the cabinet boxes are. It's no VOC, 5-ply, maple. The A side is too gorgeous to paint. G found a place to send it to be prefinished so it'll have that durable factory finish. I think this stuff might be too pink on the insides of the cabinets, but I'm going to have to learn with it. It's just too pretty to paint. Too pretty. AAA.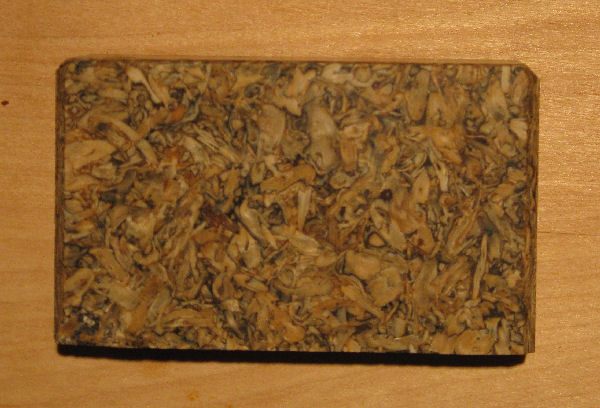 Accent Hardware

As said above, the cabinet hardwaer will have a satin brass finish. The hood is going to be brushed brass (similar to satin) wtih polished brass trim. It will have a pot rail and an outward curve, in a kind of olde world style. The brackets for the open shelves (pictured below), are kind of art nouveau style. I liked it so much, that I'm going to get pocket door hardware and a heater grille from the same place. The glass sample I think I've decided on for the stemware cupboard doors is from Bendheim and called "European clear fine gauze" (below). UPDATE: I ended up getting Masterpoint (a.k.a., pointal or pointy) instead.








Go to Resources to find the vendors for all this good stuff.

Back to Home Page