JC's Kitchen
JC's Kitchen

Welcome to the Bamboo Forest
Welcome to the Bamboo Forest

The old kitchen
I knew when I moved in that I was going to need a new kitchen, but I also knew it was going to cost a lot of money, so I painted the poppy on the blank wall and put it off for a few years. Then I got sick and put it off. I looked at magazines and still didn't know what to do. I just didn't get started. But then E did her kitchen. And I did some help and encouragement, and ran around with her to different showrooms. And started planning. I chose some appliances. In so doing found the Garden Web and all the info to be had there. Much better than the magazines. I asked the tile man for a reccomendation for a ktichen designer, but having found GW I didn't make the call. This is the information that I thought I needed from a KD. I made some sketches. Looked into finishes. Got my ideas together. Here's the layout of the old kitchen, and the area with the floating partitions gone.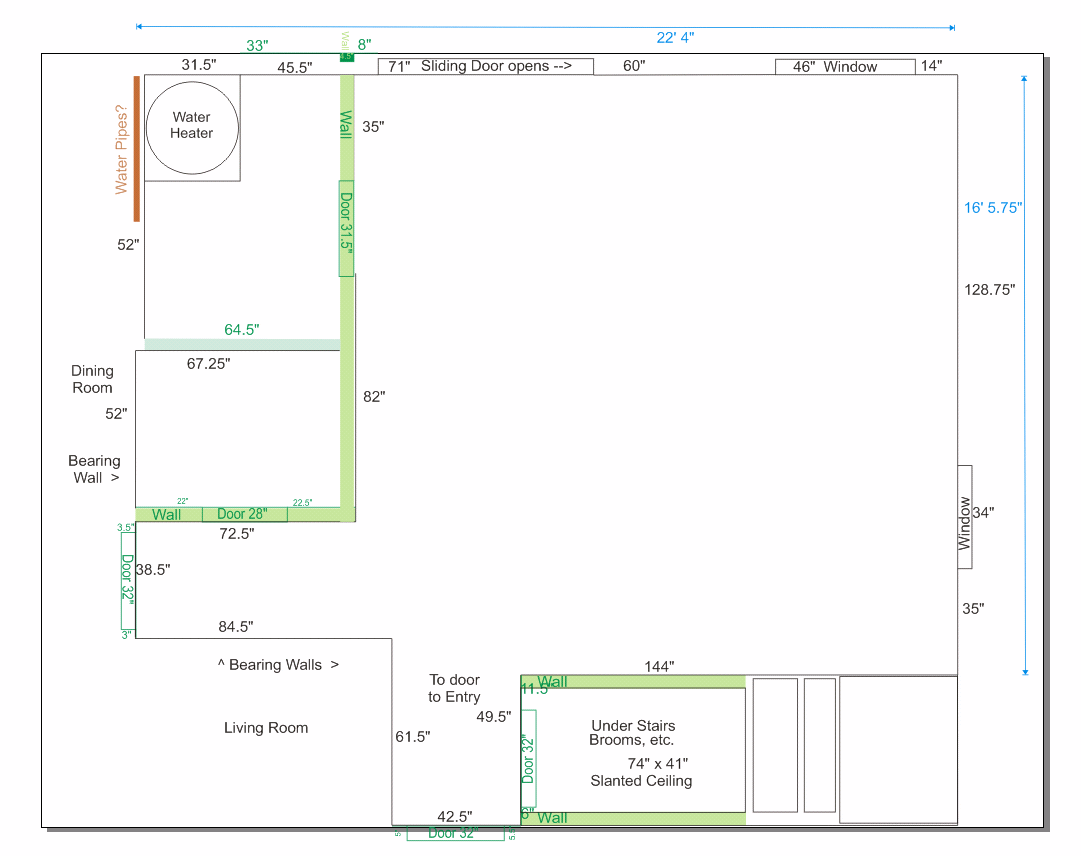 The new plan
Spring. Still stuck. E's finished with her kitchen, but I'm still nowhere. I just can't make it work. I come up with a plan that's open in the middle with a table, but it's still too far to the fridge, etc. And I hate the plan with the island. I go forward with upgrading the stereo and putting in a solar electric generating system, instead.
Forward a year from starting to plan and I decide I have to do it. I really need the new kitchen and it's time to make compromises and start talking to people. I know a lot of great tradesmen, so I think I really only need a general contractor for the new services and to move the dining room door. The biggest compromise is accepting enamel on cast iron sinks rather than porcelain. I like porcelain a lot better but just can't make the ones avaialble fit in the room. I almost get a Luxembourgian fireclay sink, but the basin is just too small and I worry about cracking. So, armed with sink choices, I look again at the plan and realize that the other big sticking point is refrigeration. I've eliminated the BSH (Gaggenau) freezers, which come in good sizes, because I just don't like the interiors. But in the time that I've been on hold the new SubZeros have come out and I'm not thrilled with them either. I'd about decided to do the 36" over/under and the 27" freezer, but I just don't like them. I go round and round trying to get a combination that I'll be okay with and have just about decided to keep the old freezer somewhere, and get the integrated both fridge and freezer, because with the integrated fridge I don't have to mourn not having room for fridge drawers, when I espy the Miele. They're the same boxes, therefore sizes, as the BSH, but oh, so different inside. I really like them better than the SubZero. Surprise! New on the market, but I don't care. They're just right. But with the slightly smaller fridge I want the fridge drawers again.
The lightbulb! The cartoon one over my head! If I make a smaller island, one just deep enough for the trough sink, I can put the fridge drawers there and I can have a table area on the far side. This is an excellent solution. I check with my father that it's possible to make this fold down table shelf thing I've invented and he assures me that the hinge/brackets are a standard bit of hardware and it'll work fine. So then I realize that it'll be even better if the islnad top overhangs by 6". I loved having an elevated tray on my old work desk, with the space underneath, and it'll give me enough work area on top, plus keep the table top from feeling cramped. Yeah! And I get my fridge drawers. There are lots of little quirks and tricks that I might want, but the two things I really really really want are fridge drawers, hopefully in the prep area, for all the veg, etc., that I've been putting in the little brown fridge from the shop, and Mother's horizontal tray cupboard. The latter is easy with a good cabinet maker, which I have. But if I do this island with the fridge drawers I also can have the things that I might need while throwing something together on the stove, right there in the bottom drawer. No more hike!
So here's my final sketch. Final because it includes all the things that happened later in the process, including giving up on Gaggenau Vario cooktop modules after their 38% price increase, plus a dislike for the amount of cabinet space they take up. I flirt with the Miele Induction, but it's just bigger than I want though I can cram it in, and go back to the Wolf gas. Wolf gas was my entry point. I love the burners. I'm not so thrilled with the arrangement of the 15" module, with the knobs on the side, but decide I can live with it, and it's as shallow as the Miele induction. I seriously look at a couple of European only brands for the induction because they have 24" and also zoneless. But they're not available in the U.S. and so would be orphans. The Diva de Provence 24" doesn't have enough power levels. Then, chatting with another remodeler on GW I am inspired to look at the Gaggenau website to see how their induction works, though it only comes in 36" (other than the way overpriced modules). I see a 24"!!! It's just like the 36" but with only the big element and one pair of side elements instead of 2 pairs. Why don't they sell it here??? I love the sliding magnetic airhockey controller, too. It's much better than the touch pads that other units have. But no help from Gaggenau, Purcell Murray or Universal. Well, Universal tells me the reason they can't get it is that Gaggenau haven't paid for a UL seal. I check out self importing and am warned about the wiring differences and insurance issues.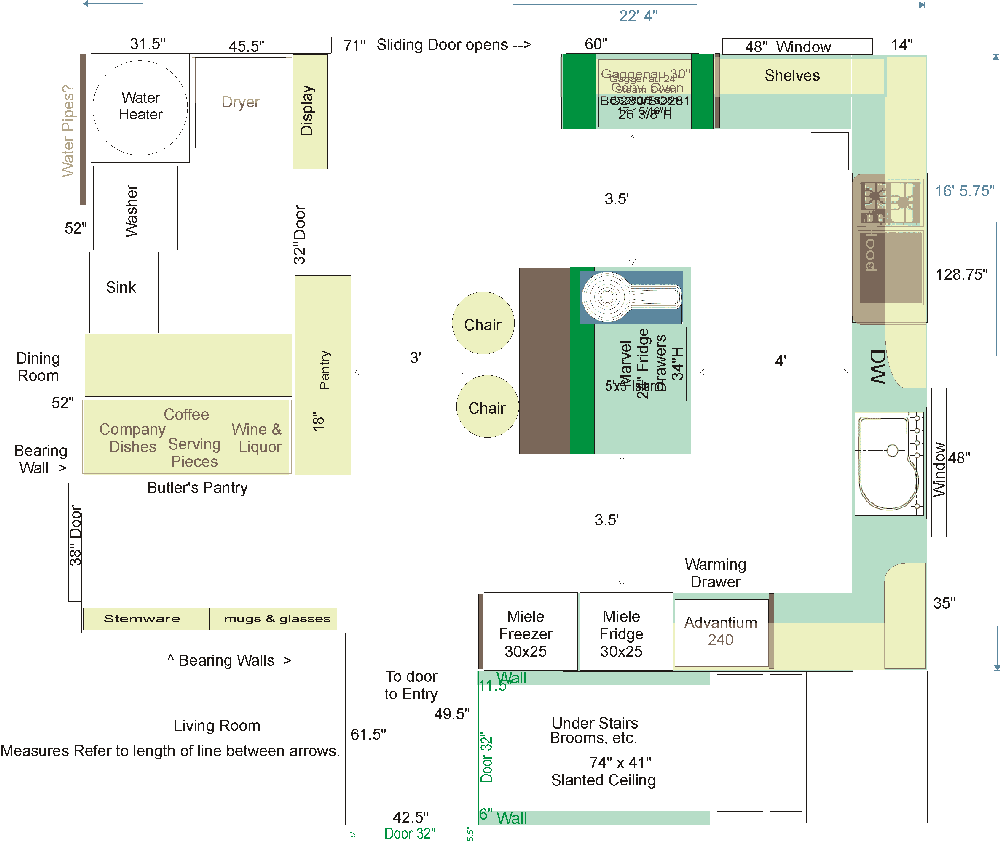 At this point I know I'm going to need more input. I call the cabinet maker and he comes to look and measure. He tells me the windows need to be changed. I hadn't wanted to do that and I'm not at all sure about this. His draftsman makes some preliminary plans, which aren't really what I'd sketched. Meantime, I've gotten some recommendations for contractors and interviewed them. The first guy doesn't ask any questions, his bid is too low, and is light on details. How can I hire someone who doesn't ask questions? The second guy seems like he knows what he's doing but when I mention the fall for the drains he doesn't seem concerned. I'm concerned. But he's a great guy and seems competent, though he leaves off a major item which is right in his specialty. The third guy, OO, is the one who did E's kitchen. He says he's willing to do the "rough" though he usually does complete projects and only uses his own workers and subs. That is, the trenches and services, door and patching. He is as concerned about the fall as I, and he says that before he does anything he'll send the camera robot into the drains to see exactly where they are and where they go. He walks around the outside and checks where the cleanouts are, the services, etc. This inspires great confidence. He says the same thing as the cabinet maker about my windows. "They look like a mistake." But it's December and I'm travelling and it's the holidays and I have a work related crisis and can't think.
OO's bid is three times the amount of the good guy's, and about 300% more detailed. I know this is the contractor for me, but now I'm beginning to be convinced that I also should change the windows. I ask on GW and am told that yes, I have to change the windows. But I only want to if the sink window can be a garden window, and the other one can have an outdoor serving counter, and they both can be counter level. At which point, I'm pretty much signing on for OO to do the whole job. I can see how trustworthy he is, and how detail oriented, and am becoming convinced this is a good idea. But I'm not sure about the cabinets. I tell OO about the bamboo. And the low/no VOC. And all the little details I want. And he takes me to meet G, and see his shop, and get comfortable with the idea of using G. I can tell that G can and will make anything I like. I still have concerns about the boxes, but there are other issues that crop up as well, especially the lighting which I've been ignoring since I hate it, and I'm thinking I really should just hire OO. So I tell my cabinet maker and pay him for his time to date. I know he would have done a brilliant job, but G seems perfectly competent, and he and OO are friends and have known each other forever, so have a kind of communication that is irreplacable, so I get the point.
This is G's version of my sketch: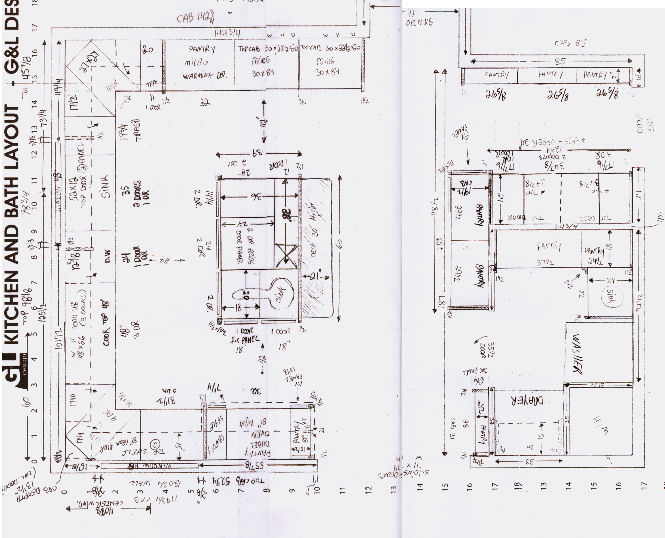 Back to Home Page

Forward to Week 5